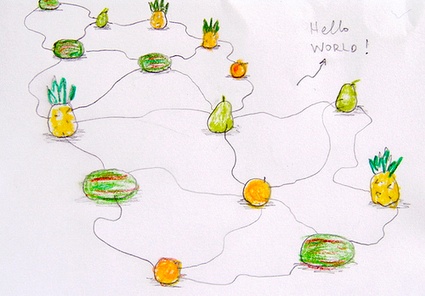 Saw this post a while back and thought the project seemed interesting (?), at least for someone/somefarm with lots and lots of fruit... the possibility of using the chemical reactions/electricity in fruits as a computer.... more
here.
Also, in response to Bjarki's lovely post... you remarked (and used) the power (death grip?) of google for the image search, bringing up some interesting image results, I have been reading a bit of this essay/article thing
here
and
here
, (and
here
) and although I haven't really digested all of it, (and sometimes it goes into nutty zones) the author(s) bring up interesting points about Google and its use of its own technology in creating its own forms or the basis for its authority...

"That is why PageRank[TM], which, as we have seen, is not merely an algorithm, becomes the cultural prism through which Google intends us to
analyse everything. In a certain sense, what we witness, is an enforced
extension of the peer review system - which works all right within the academic system - to the whole gamut of human knowledge."


This all may be a little off topic... but I think it relates to the kind of cultural capital/producers etc. discussion that sort of comes up in Miwon Kwon's book... and also, it should be noted, the 'blog' that we are using is a part of the Google system (bought by google in 2003), requires a google account to use.... etc. But the content is still ours, right?....
"By submitting, posting or displaying Content on or through Picasa Web Albums, you grant Google a worldwide, non-exclusive, royalty-free license to reproduce, adapt, distribute and publish such Content"
...
from terms of service